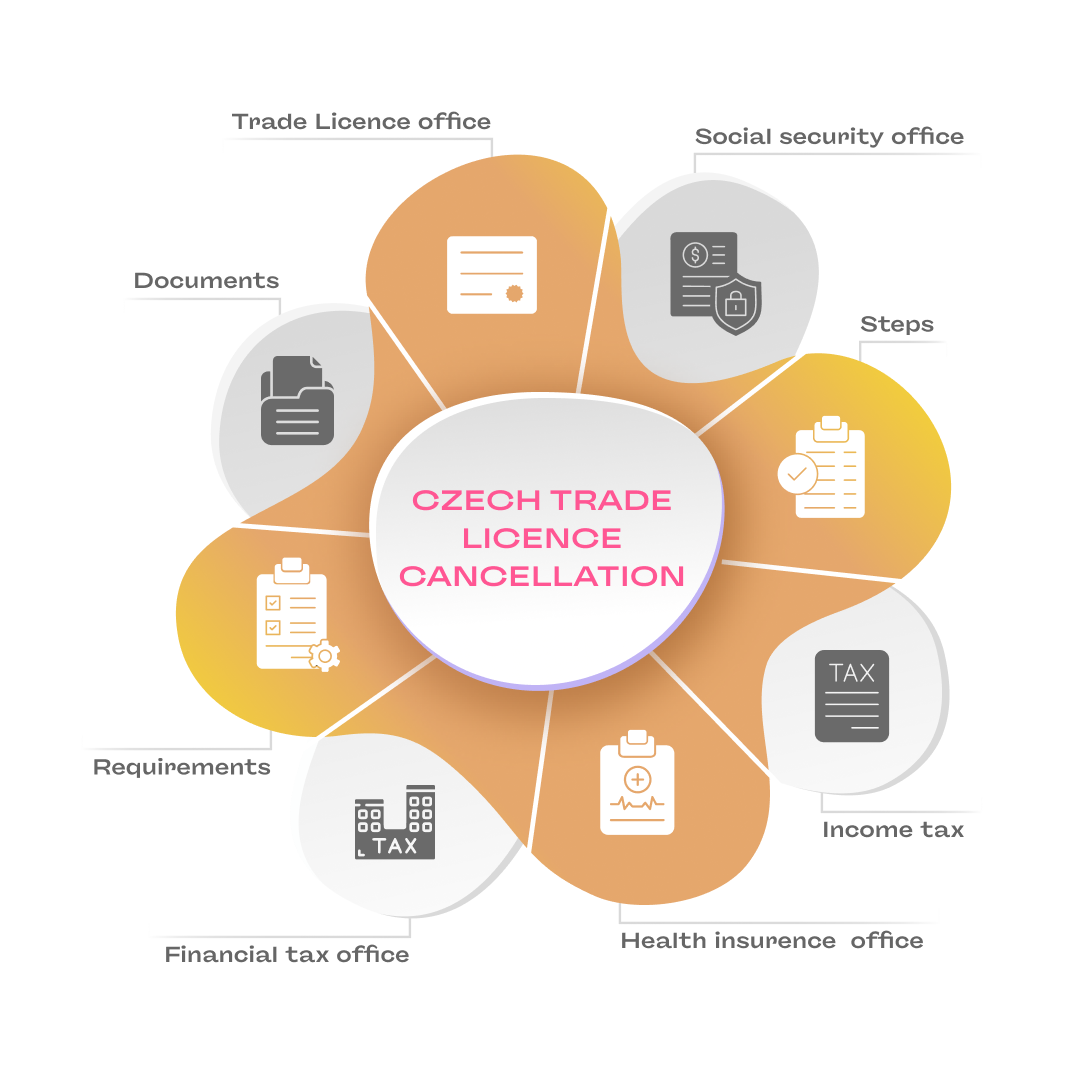 How to cancel a Czech trade license?
Are you a
Czech trade license (živno)
holder ready to stop freelancing for other work, or to leave the country? In both cases, it's important to either pause or cancel your Živno, and to inform the proper authorities. Failing to do so can quickly generate unexpected debts to health insurance and social security. This is on top of missed tax reporting obligations.
Read ahead to avoid these misunderstandings before they happen. We'll share the common mistakes Zivno holders make when leaving the country, and when taking on other employment. You'll also find important info on why, when, and how to pause or cancel a Czech trade license.
What happens if I leave CZ with my Zivno open?
An all-too-common mistake expats make when leaving the Czech Republic is forgetting to cancel their trade license. When this happens, there is no way to back-date the cancellation. The license is active until the date you notify authorities, including: health, social and tax offices.
This means you remain responsible for monthly advances to social and health, and for reporting trade license income every year. It also entails fees for missed / late payments, so debts quickly add up on top of the mandatory contribution amounts.
That's even if you have zero income from self-employed activities to report for the period the trade license was active. Thus, it's important to deactivate the trade license and deregister from social security and health insurance on time.
If you plan to restart Živno activities in the future, you can also pause the trade license. In this case, you will still need to inform all relevant authorities. Afterwards, you will be able to suspend mandatory payments and tax reporting obligations until you reactivate the trade license.
Should I cancel or pause my CZ trade license?
Keep in mind that it's possible to pause a trade license for an extended period of time. For example, it's wholly reasonable to freeze your business until a specific date long into the future. It could even be 31 December 2099. Just be sure to inform all authorities that you intend to suspend / pause your Živno. This includes officially informing the tax office, social security, and public health insurance.
If you decide to cancel a trade license, you must inform the same authorities, but you completely deregister the license. This means that if you want to resume freelance business activities, you'll need to reapply for a new Živno and IČO (business ID number).
It's also important when pausing / canceling a Živno to remember that you may still have tax reporting obligations. This occurs if you work any period of time during the taxable year in which you pause / cancel the license. In this case, even if you only worked one day of the year, you must declare that income in the annual personal tax return.
How to keep a Živno under full-time employment
Sometimes, you might want to keep a trade license active to earn side income while also a full-time employee. In these cases, for the first year you will not need to make any contributions to social security and health insurance.
However, this is not because the employer pays these contributions for you. In fact, after the first year, you must make additional contributions to social and health as well as pay taxes on any side income you earn.
This is separate from and on top of the contributions and taxes which the employer pays according to the employment income.
Common misunderstandings of side income
One of the most common mistakes people make with side income is thinking their employer pays all contributions and taxes. Perhaps it's because there are no additional expenses for the first year of earning side income. But, it's as simple as this: the more income you make, the more you pay in taxes, social and health.
The employer is only responsible for contributions and taxes on your income from full-time employment. For any side income, you must contribute more to social security and health, and are responsible for any additional personal income tax. How much will depend on the overall earnings, as well as any tax relief, discounts, or bonuses you can claim personally.
Where and how to cancel/pause a Czech trade license
To cancel or pause a trade license, start at the Trade License Office (živnostenský úřad). Here, you must inform the office that you are pausing or canceling a Živno. Reporting changes is possible at any branch, and the office will provide a confirmation letter of any changes.
In this case, the office provides two options to deactivate a Živno: suspension (pausing), or cancellation. If you intend to leave the country but think you might return for more freelance work, consider pausing instead of canceling.
However, it is not possible to pause a trade license indefinitely. You will have to provide a date in which the trade license will recommence, but this can be long into the future (up to 31.12.2099).
How to cancel / pause Živno related payments
After informing the Trade License Office of pausing or canceling the Živno, next is social security and health insurance. Note: the staff at some of the trade license offices might offer to do this for you. In some cases, they can even deregister you for both health insurance and social security. Other offices might ask you to contact the individual offices yourself.
If you have to personally cancel monthly advances to Czech social security and health insurance, follow the steps below.
Canceling social security payments
To cancel or suspend advances to social security, find the relevant form to complete online. You can then submit your notification to the social security office either in-person or by registered mail. If going in person, just remember to carry your passport as well as the confirmation letter from the trade license office.
How to cancel public health insurance
If canceling payments to public insurance (VZP), you must inform the company within 8 business days of Živno cancellation / suspension. This is possible by completing an online form, and submitting it to a
VZP office
in-person or via registered mail.
For health coverage from OZP, it is possible to inform the company by email. If private health insurance, there is no action necessary.
Finally, inform Czech tax authorities by completing the relevant form and delivering it to the local Tax Office. Here, you can find a window marked "PODATELNA" to submit the form in-person. Alternatively, you can send the form by registered post.
Important info for closing a trade license
Remember that you must file a tax return for the year in which you canceled or suspended your Živno. This is true even if you worked only a day, week, or month of the year.
Also keep in mind you must report earnings from the last year every following year by 31 March. Additionally, from 2023, the limit for tax applications has risen to CZK 50 000. If your gross annual income is less than this, you will not need to file a tax return. However, in this case you will still be responsible for social and health insurance advances.
Final note:
If pausing a trade license, be sure your virtual business address remains active. If the address is canceled at any time, your paused trade license will also be canceled.
Get help in Prague canceling / pausing a trade license
Why not handle everything in one go, including canceling or pausing your trade license with all relevant authorities, completely remotely? At Pexpats, our agents can handle everything for you completely 100% remote and online. We'll arrange cancellation or suspension of a trade license, even if you're already outside of the country. You won't even need to visit Pexpats in-person, or make trips to any official offices. This includes pausing or canceling the trade license, social security advances, health insurance payments, and income tax requirements. We can even handle flat tax deregistration, VAT, and light VAT.
Steps to cancel / pause a Živno via Pexpats
To cancel or pause your trade license with professional Pexpats' assistance, follow the steps below.
Complete the online form with all of your information.

Attach a scan of your passport, and related registration documents.

Confirm Power of Attorney online.
And that's it. You sit back and relax. We at Pexpat's then take over:
Trade license cancellation / suspension

Social security advances cancellation / suspension

Health Insurance payments cancellation / suspension

Personal income tax requirements cancellation / suspension
All 100% remotely, without the hassle of you going to trade, social, health, and tax offices to cancel or pause your trade license.
Let Pexpats handle everything!
Why not make your life easier? Pexpats handles anything and everything expats need: consultation services, fulfilling appointments, filing applications, visiting official offices and much more. Simply book a spot with one of our professional advisors to get started today.